Richter Health City
The goal of the Richter Health City programme is to encourage as many people as possible to preserve their health and stay fit. The organisers provide screening tests, counselling, presentations on physical and psychological diseases that affect many people, and great family programmes at every location. In addition to health preservation, a great emphasis is also put on philanthropic activities.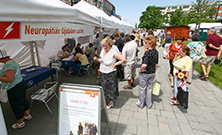 Our most valuable asset is our health. Richter has believed this since the very beginning, and it backs up this belief not just in theory, but in practice as well by providing numerous programmes and initiatives.
One of the most successful of these is Richter Health City, launched in Hungary in 2009, where visitors can meet with well trained teams made up of specialists from local hospitals and health care institutions. A special feature of the initiative is that it provides visitors with the opportunity to support the operation of the local hospitals and helps them acquiring much needed medical equipment. Through their participation visitors can increase the basic HUF 2 million [about EUR 6,800] donation made by the Company. With Richter's help, local residents have collected approximately HUF 297 million [about EUR 945,000] in the ten years since the programme began.
Since many prominent people have joined the programme, visitors have an opportunity to personally meet with Hungarian celebrities, who counsel visitors, share their personal experiences and offer health care tips.