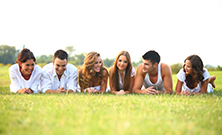 Thanks to recent developments, Richter has one of the biggest product selections of any manufacturer producing gynaecological products. As a reliable and stable partner, we think it is important to provide solutions for the most common women's problems and life situations. Our gynaecological products include effective, modern and affordably priced contraceptives, emergency contraceptives, hormone replacements, fungicides and preparations used for treating uterine fibroids.
Richter has been conducting original research since the past century, and we have sacrificed a lot to create a comprehensive gynaecological portfolio. It was an important milestone in our company's history when in 2010 we once again started original research in the area of gynaecology. The product we developed to treat uterine fibroids is now available in numerous countries around the world.
By buying the contraceptive product line of Germany's Grünenthal, the Richter Group has increased its presence in the Western European market, which provides the company with a unique opportunity to expand its existing gynaecological business. The United States' market is also important for Richter's export of gynaecological products as the company supplies this market with large quantities of active agents and finished products.
These strategic steps successfully complement the company's previously well-known gynaecological activities by making it possible for us to offer an innovative therapeutic solution for every age group.
Our aim is to protect women's health and to preserve their quality of life with our products throughout the world.