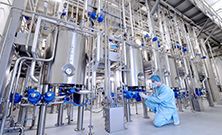 Shrinking opportunities in traditional innovation and increasing generic competition in the pharmaceutical industry highlight the crucial importance of new fields, such as biotechnology, which offer business opportunities for long-term-thinking pharmaceutical companies. Richter has been making use of biotechnological processes for more than fifty years. The company has great traditions and a large pool of experts in both development and manufacturing, and it is the most important corporate innovation base in the region.
The significance of biotechnology products continues unabated in the global pharmaceutical market. Twenty-eight per cent of the products given marketing authorisation between November 2010 and October 2011 in the US and one-third of all the new drugs in the European Union are of biotechnological origin. Experts unanimously agree that the market share of biotechnology products will continue to grow in the future. While the small-molecule drug market is estimated to grow by 3.9% annually between now and 2015, the market for biotechnology products is expected to grow by more than 10% a year.
This trend is further bolstered by the fact that approximately one-third of the current clinical development topics are of biotechnological origin. According to competent estimates, seven of the world's top ten drugs will be of biotechnological origin by 2016. These forecasts and data unequivocally support Richter's strategic decision to create a biotechnology portfolio and build a new Biotechnology Plant.
Recognising the medium- and long-term significance of pharmaceutical preparations of biological origin, Richter took a strategic decision to move into a new area which represents high intellectual added value.
Acting on the basis of the experiences acquired in classical fermentation over the past 50 years and advances in molecular biology, the company took a decision in 2006 to begin to develop and manufacture biotechnological drugs. In 2007 Richter joined Helm AG to found Richter-Helm Biologics in Germany. The state-of-the-art plant, which specialises in the bacterial branch of biotechnology and manufactures recombinant proteins, embraces research and development, laboratory and pilot plant capacities. In 2008 Richter launched a HUF 25 billion [EUR 93.4 million] investment project to build a plant in Debrecen for developing and manufacturing biotechnologically produced pharmaceutical products and, by doing so, created about 150 new jobs in the region.
The biotechnology plant was built with government aid in an easily accessible industrial zone furnished with all of the necessary infrastructure. The HUF 25 billion investment is improving the regional competitiveness of the northern Great Plain region. The plant, whose impact on the environment is minimal, is initially producing samples for clinical trials. The manufacture of commercial products with high intellectual and technological added value is slated to begin in 2016. These drugs will be protein products made of mammalian cells grown in bioreactors, such as antibodies for treating cancer and chronic inflammatory diseases.
The plant complies with the most recent international quality, safety and environmental requirements for pharmaceutical manufacturing. The plant has created 150 new jobs for highly qualified professionals, whose training began a few years ago in cooperation with the University of Debrecen.

The company's goal is to create a comprehensive and competitive product line that can help to expand its domestic and international product portfolios with high added value products.