Research alliances
The Company considers it essential to establish partnerships to facilitate the development and marketing of new molecules. We join forces with academic and university institutions in the early phase of our research activities, while we make efforts to establish cooperation with other pharmaceutical companies when it comes to the development of molecules in clinical phases.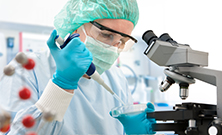 In this regard partnerships with Allergan and with the Japanese company MitsubishiTanabe Pharma have contributed substantially to the Company's research activity. In particular Richter's experience in preclinical trials is complementary with Allergan's experience in clinical trials. Richter further expanded its partnership base in the field of original research activities by entering into a comprehensive and long-term collaboration agreement for the discovery and development of new chemical entities in the field of cognitive disorders with Orion Corporation. According to the agreement signed in 2013 the partnership provides an opportunity whereby the two companies jointly select and bring forward three discovery phase candidates and share all the development related expenses on an equal base.
In addition to the comprehensive and long-term license and collaboration agreement signed in late 2010 with Mochida Pharmaceutical Co. Ltd. in respect of the development and marketing of Richter's biosimilar product portfolio, we have announced in August 2011 two separate license and collaboration agreements in respect of the development and marketing of two biosimilar products, two monoclonal antibodies, with STADA. In 2014 and during 2015 the cooperation with STADA in the field of biosimilar product development was further widened as the two companies signed nonexclusive license and distribution agreements to commercialise Richter's biosimilar teriparatide and pegfilgrastim in Europe (excluding Russia).
In October 2016 Richter further expanded its partnership base signing a technology transfer and license-in agreement in respect of the development and commercialisation of DM Bio's biosimilar monoclonal antibody, trastuzumab.
The unique expertise of Gedeon Richter's research staff is coupled with the experience of its partners in development, clinical research and licensing. We believe we can work together to develop therapies and market drugs that can give new hope to large groups of patients.