Research activity
Innovation and researching original drug molecules have played a key role in the Company's strategy ever since it was founded in 1901. With more than 1,000 people in research and development, Gedeon Richter has become the most important pharmaceutical research centre in the region.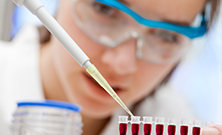 The Richter Group spent HUF 40.5 billion on research and development in 2018, which amounts to 9.1 per cent of its consolidated sales revenue.
Drug research and development entails three strategic directions:
– research and development on original small molecules,
– recombinant biotechnology,
– generic product development.
Our original drug research traditionally concentrates on discovering and developing effective drugs to combat diseases of the central nervous system, focusing on the development of compounds for the treatment of negative, cognitive and positive symptoms related to psychiatric diseases. In the United States, FDA approved in September 2015 our antipsychotic drug containing cariprazine as a drug substance for the treatment of schizophrenia and bipolar maniac disorder, and after its launch in March 2016 this treatment is available for the US patients. In May 2019, the indication was further extended by FDA to bipolar depression treatment as well. The European Commission approved cariprazine as drug substance for the treatment of schizophrenia in July 2017.
At the end of 2018, besides cariprazine the Company has a research portfolio of 14 ongoing projects, two of which are in their early clinical phase. The others are in preclinical research and development phase.