Safety and health at work
In addition to providing treatment for patients and a safe and predictable market environment for our partners, we, as a large pharmaceutical company, have a responsibility to create a safe workplace environment.Our several hundred technologies, many hundred workplaces, thousands of pieces of equipment, thousands of dangerous chemicals, and five thousand employees entail considerable risk, which can only be managed with carefully designed, systematically functioning safety technology.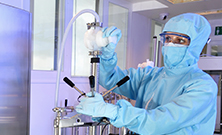 We designed and introduced our own occupational health and safety management system (OHSMS), and in 2006 we were certified by an independent accredited organisation. The management and every hierarchical level are committed to operating and regularly upgrading the system. In order to keep the risks in check, we devote particular attention to training and continuous training. Our goal is to return all of our employees to their families in healthy condition at the end of each working day.
Workplace safety is founded on prevention. The OHSMS regulation is based on the requirements of Hungarian and European Union law, and we apply the most advanced technological, occupational health and safety solutions.
The OHSMS procedures and regulations cover every detail and contingency of pharmaceutical manufacturing and not just production alone. Feedback, performance evaluation and development are built-in elements. Our employees undergo medical screening adjusted to the risks, and the primary consideration when designing technologies and equipment is to use the fewest possible hazardous chemicals, choose equipment that provides the greatest safety and create containment for the technologies.
Fire protection is also organised on the principle of prevention. The company's workplaces have extensive fire detection, emergency sensor and response systems.
Our experts analyse every event that occurs and take corrective and preventive action to avoid any recurrence.
Our company makes every effort to have an open and honest dialogue with its employees, the public and the officials because it believes that trust is the basis of productive and meaningful collaboration.